Why Tamarac for Business?
Tamarac is a business-friendly, vibrant, and growing South Florida community with exceptional amenities and quality of life. Our population is multicultural, multi-generational at the heart of the Miami-Fort Lauderdale metro area of 6 million people.
Tamarac is a business-friendly and vibrant South Florida community, centrally located in Broward County in the Miami-Fort Lauderdale metro area of 6 million people with an exceptional quality of life in a sunny, warm climate. Our central location is just moments away from three world-ranked airports and seaports with easy access to three major highways. 
Tamarac's population of 72,000 residents is multicultural, multi-generational and rapidly growing having increased by 19% in the last decade.  With new development projects and investment burgeoning throughout the city, thousands of new residential units have come online in the last decade driving our population growth.  New developments are in the pipeline to build mixed-use multifamily, restaurants and retail throughout the city.  Tamarac Village, the major new public-private partnership and mixed-use downtown area project, is nearing its final phase for commercial construction which will be located next to a new public park with an amphitheater for community events.
Our business community is thriving.  Tamarac recently attracted several new companies to the Commerce Park including construction of a new major Amazon distribution center (bringing 650 new jobs) as well as a new headquarters home for New Vision Pharmaceuticals.  Major new corporate investments and expansions have also recently been completed with City Furniture's headquarters and distribution center growth (to 800 jobs), Sonny's The CarWash Factory headquarters growth and major expansion project for a 200,000 sf manufacturing facility (and growing to 700 jobs).  Another major Tamarac employer, HCA Woodmont Hospital, recently completed their $25 million investment in facility upgrades with an additional $10 million in renovations planned for this year.
We're focusing on the future in Tamarac, and it shows.  Our economic development efforts are concentrated on revitalizing our commercial corridors and shopping centers and attracting new businesses and restaurants to the City. We have a vision for our commercial redevelopment opportunities and recently launched two economic development grants to incentivize transformative commercial projects.  Tamarac has attracted $4.7 Billion in private development investment in the last decade and we will continue our efforts to attract investment and plan for smart growth in our city.
The City has invested $200 Million in public capital improvement projects in recent years including an expanded fiber optic network for greater connectivity and smart infrastructure, new and improved parks, aquatic facilities and upgraded amenities throughout the city.  Tamarac is home to two world-class golf courses, including City-owned Colony West Golf Club, which through public-private partnership recently opened a new golf clubhouse, restaurant and event center with an adjacent new hotel opening soon. Major City investments for landscaping and beautification projects are coming soon.
Why Tamarac?  Tamarac is committed to excellence, always.  It is our mission to make a difference and to achieve results.  We are a financially stable, resilient and business-friendly community with a vision for the future and opportunities for growth.  This is why businesses and investors realize that for Tamarac, the time is now.
---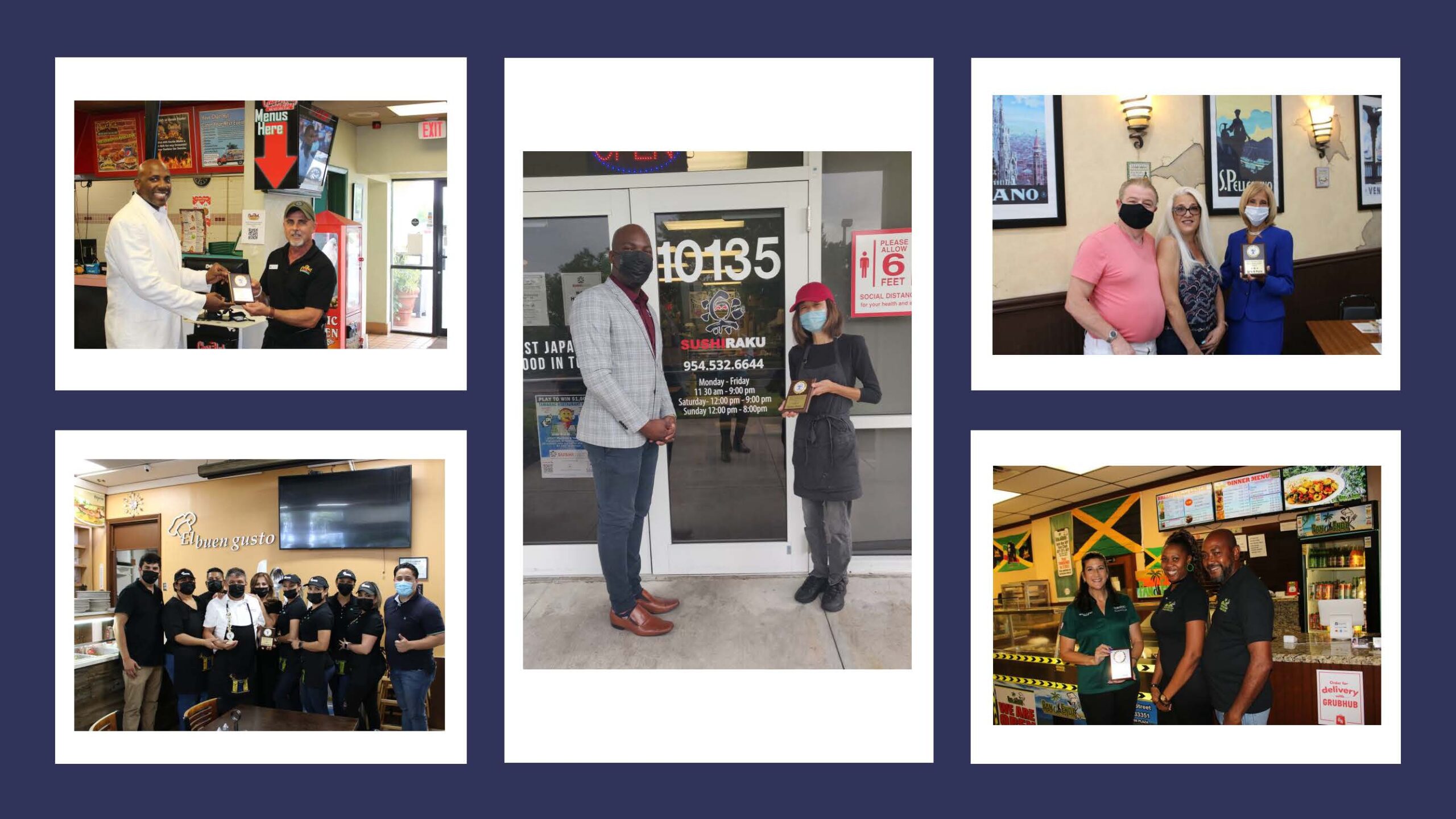 Presentation of awards to business owners by Tamarac's elected officials